Rabbit Hole – Nicole Kidman's Oscar nominated performance
Rabbit Hole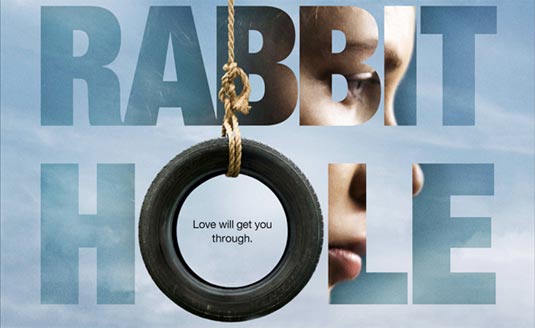 Story
When Alice tumbled down the rabbit hole into Wonderland, she found herself thrust into a bizarre, unfamiliar world where nothing made sense and she had to adapt herself to an entirely new way of being.
Becca and Howie Corbett find themselves in a similarly disorienting situation following the accidental death of their young son: Their safe and secure suburban life is shattered; their once-close and happy relationship becomes cold and distant; they clash over Becca's attempts to clear their home of their late child's clothes, toys and drawings—Howie finds comfort in these familiar mementos, while seeing them brings Becca nothing but pain; and each seeks solace outside the home—Howie by considering an affair with Gabby, a woman he meets in a support group for grieving parents, and Becca by reaching out to Jason, the teenage boy who drove the car that killed her child.
The Corbett's struggle to survive their traumatic upheaval and find a way to reconnect and carry on is the story of Rabbit Hole, a film written by David Lindsay-Abaire based on his play. Directed by John Cameron Mitchell, Rabbit Hole is a Lionsgate presentation of an Olympus Pictures/Blossom Films/OddLot Entertainment production and stars Nicole Kidman (who also co-produced), Aaron Eckhart, Dianne Wiest, Miles Teller, and Sandra Oh.
MOVIE REVIEW
We're collections of chemicals … bundles of bone and blood and breath. Parsed, we're nothing, our distilled elements worth pocket change. We're neither scarce nor special—a marvel of engineering made commonplace through mass replication. People outnumber pigs and pigeons and Ping-Pong paddles and fill the earth like grains of sand. The planet keeps turning when one of us dies, the Milky Way remains unmoved. If one of us disappears, there are 7 billion more to fill the gap.
And yet it doesn't fill. We leave, and a hole remains … an emptiness echoing of grief unimagined. In death we see the truth: We are priceless … and irreplaceable.
We never meet Danny. The little boy's been gone for eight months by the time we arrive—long enough, perhaps, for the first throes of grief to ebb. His parents, Howie and Becca, are ready to move on … to find solace in work and gardening and perhaps each other.
But there's such a void left by such a little boy. And it can't be filled with his unworn clothes and unopened room and square-shaped moments caught by a camera. These things, in fact, make the void feel all the emptier.
Howie treasures each reminder left behind, every fingerprint, every stray shoe. For Becca, though, they form a prison, reminding her of all she's lost. And so, underneath the mask of work and gardening and "moving on," under the cover of therapy groups and awkward conversations, they shiver and shake and go a little crazy. They begin to wonder whether they can continue to live with this void, with each other, so close to all they've lost.
POSITIVE ELEMENTS
Rabbit Hole is a story that plunges through the inky blackness of grief … and swims to the surface again. It is, in the end, a hopeful story, one that insists that even after the most terrible of tragedies life can level out.
Danny died in a car accident—hit by a teen driver while retrieving his dog from the street. When Becca asks her mother whether the pain ever goes away, her mother (who also lost a son) says no—at least it hasn't for her. "But at some point it becomes bearable," she adds, comparing the pain and loss to a brick you carry around. Through practice, the brick feels lighter and your mood turns mellower, shot through with sweeter memories. She says you get to a point where there's even a certain comfort to it. "It's what you've got instead of your son," she says.
A brick of grief hardly sounds comforting, given where Howie and Becca are at. But both really want to move on, and move on together—even though it can be incredibly difficult for couples walking in their shoes to stay together. While both inevitably go through waves of guilt and blame (Why didn't I latch the gate? Why didn't I tie up the dog?), they know it's a path that doesn't lead to any sort of healing or reconciliation. They want to move on, and through they struggle mightily to figure out how to do that, their sincerity is encouraging.
Jason, the boy who hit and killed Danny, is full of his own horrific guilt. And Becca finds a strange comfort in reaching out to him, telling him as best she can that she doesn't blame him. Becca, who can't find solace in being comforted, finds a peace in comforting Jason.
SPIRITUAL CONTENT
For Becca, comfort—particularly spiritual comfort—is incredibly hard to come by. She can't blame her husband for Danny's death. And she finds that she can't really even blame Jason. So she points her finger directly at God—a God she doubts is there at all.
She and Howie attend a therapy group made up of parents who've suffered similar losses. One couple struggles aloud with how to divine God's will from their loss. "We have to remind each other it's part of God's plan," says the husband. The wife adds that their child was taken from them so God could make another angel.
"Why didn't God just make one—another angel?" Becca says. "He's God, after all. Why didn't he just make another angel?" Becca says religious people make her angry and has little time for anyone who tries to push on her the idea that God can provide solace. When her mother tries to tell her that the church was a great comfort to her after she lost her own son, Becca snaps back that God, to her, seems like a "p‑‑ck" who treats people like "s‑‑‑." And she follows that up by telling her mother, "No wonder you like Him—He sounds just like Dad."
As a Christian, this is hard dialogue to digest, but it's heartbreakingly realistic. In the midst of tragedy, some people turn to God, while others run away, angry and hurt and embittered. I'd love to tell you that Becca eventually finds some spiritual hope, but she doesn't. Instead, after abandoning the group therapy sessions because of all the religious folks there, she turns to the idea of parallel universes, and that the version of Becca she's familiar with is "just the sad version of us."
When she asks Jason whether he really believes in parallel universes—just as someone might ask if he believes in God—Jason answers that he does, telling her that it's pretty logical, really, "assuming you believe in science." Becca grabs onto that and says she likes the thought that "somewhere out there I'm having a good time."
There's a fleeting reference to the myth of Orpheus and Eurydice, in which Orpheus journeys to the Underworld to retrieve his love.
SEXUAL CONTENT
Sex is a point of friction between Becca and Howie. Howie thinks that maybe they should try to have another child. Becca says she's not ready—and we get the sense that they haven't been together since Danny died eight months earlier. Howie tries to initiate intimacy, turning on some sultry music and giving Becca a backrub.
"You're trying to seduce me," Becca coos, but before things go much further, she stands up and declares she's still not ready, triggering a low-key argument.
Howie's mind ultimately begins to stray. He begins to talk to and then hang out with Gaby, a woman whose husband left her. She's fun, available and obviously interested—and Howie at first rejects her out of hand. "I love my wife," he tells her. But when things with Becca grow worse, he calls Gaby and heads to her house. On the threshold of adultery, Howie again changes his mind. He apologizes to Gaby, goes back home and, when he finds the house empty, worries that Becca picked up and left him.
Becca's sister, Izzy, is pregnant, having gotten involved with an older musician months earlier. Their mom thinks nothing is amiss. Becca reacts with an air of disapproval—but not because of any closely held moral convictions. Izzy accuses Becca of believing that she (Izzy) is somehow not worthy of a child … that she's not up for it.
VIOLENT CONTENT
Becca slaps a woman in a grocery store. We hear that Izzy got into a bar fight—precipitated, apparently, by her sleeping with the other woman's ex-boyfriend.
The car crash that takes Danny's life is never explicitly shown, but we see in flashback the moment of the accident, and the horror on both Becca's and Jason's faces.
CRUDE OR PROFANE LANGUAGE
One f-word and one s-word. God's and Jesus' names are both abused, the former about a dozen times (twice with "d‑‑n"), the latter another half-dozen. Milder interjections include "SOB" and "a‑‑."
DRUG AND ALCOHOL CONTENT
Howie discovers Gaby smoking marijuana right before a group therapy meeting, and he asks if he can join her. The two share a hit and then giggle through much of the session. Howie, in fact, needs to leave the room after snickering when one of the grieving parents talks about how his daughter died from leukemia.
Smoking pot then becomes a regular occurrence for Howie and Gaby.
Several characters drink wine, and Becca accuses Howie of trying to seduce her by "plying me with liquor." Arthur, Becca's brother, was a heroin addict who died at age 30.
OTHER NEGATIVE ELEMENTS
People, in the midst of their grief, don't always treat each other particularly well. Becca takes out her sorrow and anger on most of her family, while Howie rips into Jason.
CONCLUSION
So precious we are, in our chemical imperfection … so unique in our myriad selves that we leave behind us a gaping void when we die. The void Danny leaves behind doesn't just sit there, empty. It's a little like a black hole, a vortex that pulls at those nearest it.
"It literally changes people," Gaby says, and she's right. Loss changes us. It twists and tears at us, and sometimes we never truly get over it. It's a hard truth, one Rabbit Hole conveys brilliantly. And being a Christian doesn't magically make it all go away. It's always hard to look back at what we've gone through and understand why it happened. It's hard to have faith that there's meaning and purpose behind our pain.
But how much harder, I'd imagine, is loss for those who can't cling to faith at all, those who must rely on doctrines of a parallel universe for comfort … for the bleak solace that perhaps there's another version of themselves somewhere "having a good time."
Still, filmmaker John Cameron Mitchell inserts a small sense of hope before the screen goes dark. Howie and Becca stand by the void still, but they stand together, hand in hand. They stand with the desire to take each new challenge as it comes, to move on. And then move on some more. To be grateful that they loved enough to feel such loss.
Rabbit Hole
Rabbit Hole
Rabbit Hole