Polio Iron Lung – The last few iron lungs still in use by polio patients
Polio Iron Lung
Lillard is heartbroken when she meets anti-vaccine activists. "Of course, I'm concerned about any place where there's no vaccine," she said. "I would just do anything to prevent somebody from having to go through what I have. I mean, my mother, if she had the vaccine available, I would have had it in a heartbeat."
Martha Lillard spends half of every day with her body encapsulated in a half-century old machine that forces her to breathe. Only her head sticks out of the end of the antique iron lung. On the other side, a motorized lever pulls the leather bellows, creating negative pressure that induces her lungs to suck in air.
Polio Iron Lung
In 2013, the Post-Polio Health International (PHI) organizations estimated that there were six to eight iron lung users in the United States. Now, PHI executive director Brian Tiburzi says he doesn't know anyone alive still using the negative-pressure ventilators. This fall, I met three polio survivors who depend on iron lungs. They are among the last few, possibly the last three.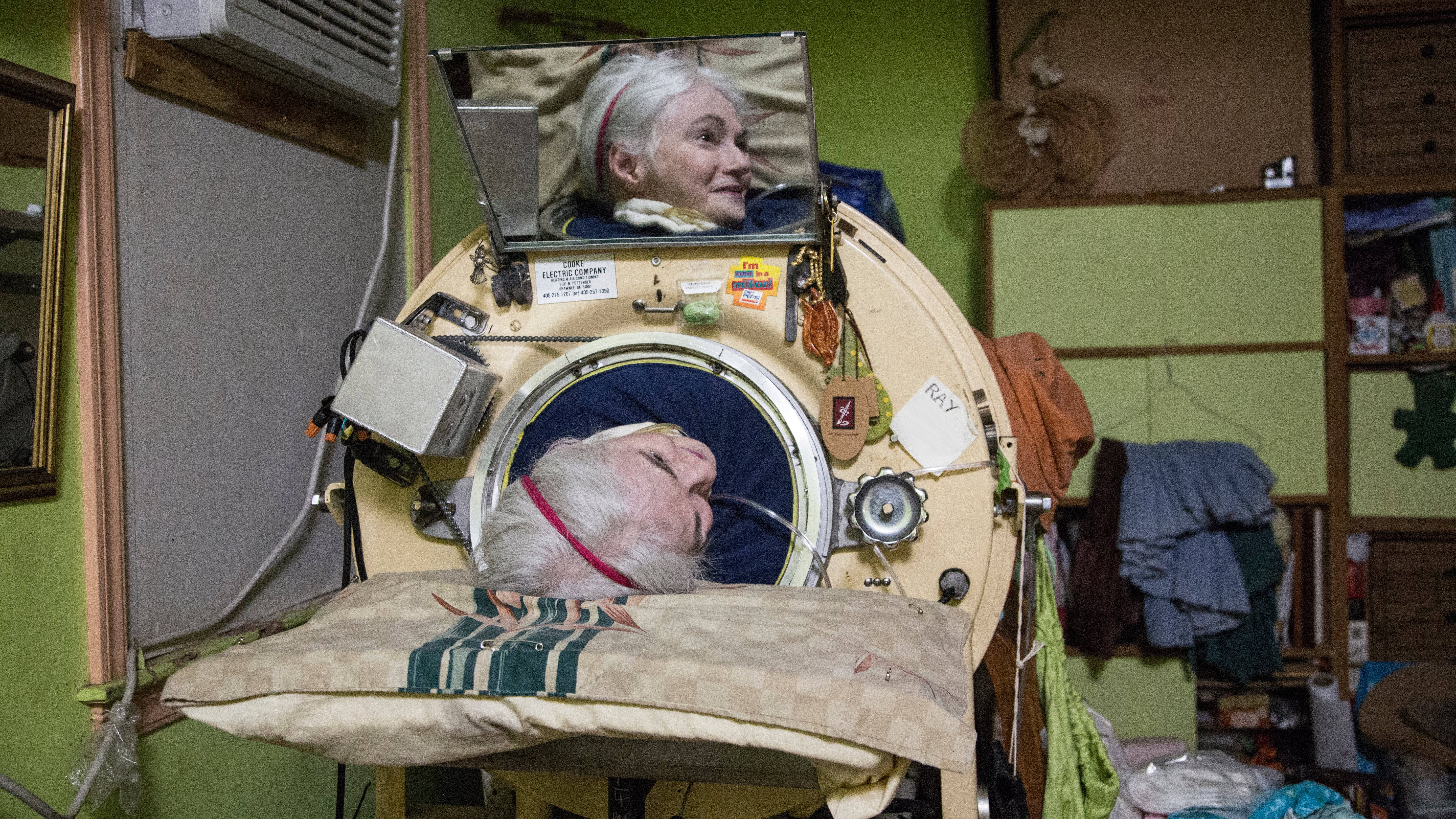 Their locations form a line that cuts directly through the heart of the country—one in Dallas, one outside Oklahoma City, and one in Kansas City, Missouri—what some call tornado alley.
Storms have always been especially difficult for Lillard because if the iron lung loses power, she could die in her sleep. She lives alone, aside from three dogs and 20 geckos that she keeps in plastic terrariums filled with foliage and wool. "They like to sleep in the fleece, wrapped up like a burrito," she said as she introduced me to a few of her favorites.
Lillard sleeps in the iron lung, so it is in her bedroom. Even though the tank is a dull canary yellow it pops in the room, which is painted chartreuse—like the rest of the house, inside and out—and filled with toys and dolls that she has collected throughout her lifetime. On the walls hang a crucifix, a plush Pink Panther, and mirrors strategically placed so she can see around the room and into the hallway.
Her iron lung has portholes and windows on the side; a pressure gauge at the top. The machine is actually cobbled together from two iron lungs. One, the March of Dimes gave her when she was a child. The other, she bought from someone in Utah, after she haggled him down from $25,000 to $8,000. The body has also been modified over the years. Her grandfather invented a motorized pulley system that closes the bed tray into the tank after she climbs in. He also replaced the brushed aluminum mirror above the neck slot with a real mirror so that she could have a clear view to the rest of the room when she's locked in the canister. A local engineer used a motor from an old voter registration device to build a mechanism that tightens the collar around her neck after she slips her head through the portal. The fan belts and half-horsepower motor have been replaced about ten times.
Polio Iron Lung
Polio Iron Lung