Nujeen Mustafa travelled from Syria to Germany in a wheelchair
Nujeen
Last year, the young refugee made headlines during her epic 3,500-mile journey to escape Isis. Now at school in a Cologne suburb, awaiting the outcome of her asylum application, she explains why, despite everything, she is still an optimist
Nujeen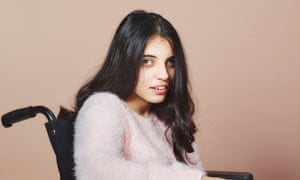 Nujeen Mustafa … 'I have become a waiting expert.' Photograph: Chris Floyd
Nujeen Mustafa lives in the kind of humdrum European suburb that most 17-year-olds could not wait to get out of. The streets in Wesseling outside Cologne are flanked by neatly trimmed hedgerows and even more neatly parked cars. Pebbledash two-storey new-builds with drawn blinds. Vast gardens with not a playing child in sight.
A year ago, Nujeen completed a 3,500-mile journey from Syria to Germany in a cumbersome steel-frame wheelchair, an Odyssean adventure that involved dodging masked Isis fighters, navigating perilous Mediterranean waters and fending off packs of wild dogs. Now the wheelchair is folded up on the veranda and she sits on a faded beige sofa in the living room of the flat she shares with two sisters and four nieces, struggling with a crumbly German biscuit.
Looking at this teenager, with her thick black-and-red spectacles, I cannot help thinking of her as a Harry Potter figure, exiled on a Westphalian Privet Drive. There are even some Dursley-esque neighbours who, Nujeen says, "aren't such big fans of refugees".
When I suggest the comparison, she shakes her head. She likes the town she has ended up in, and the fact no one knows her here. "Harry Potter is such a lifeless book, there's too little emotion and too much display of power," she says, adding a barb that has a special sting coming from someone with her backstory: "It makes every boy in the world think they are the chosen one."
Nujeen Mustafa was born on New Year's Day 1999 in Manbij in northern Syria, the youngest of a Kurdish family of 11 in a mostly Arab town. Though Muslim, she says her family were never "obsessed" by religion: she and her sisters and cousins were the only girls who didn't cover their heads in their local high school.
Her pride in her cultural identity as a Kurd is fierce, however, and shaped her view on her country's descent into civil war. As the population divided into supporters and opponents of Bashar al-Assad's regime, "the Kurds had their own side as they couldn't trust anyone", as Nujeen puts it in the memoir she has co-written with Sunday Times journalist Christina Lamb, who also co-authored Malala Yousafzai's autobiography.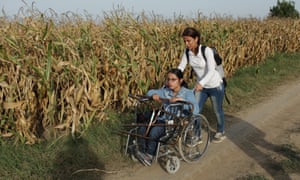 When Isis set up its headquarters in Raqqa, less than 100 miles from Manbij, Nujeen and her siblings knew that as members of Syria's largest ethnic minority they would be targeted by the jihadi militant group and decided to flee Syria for Turkey.
For Nujeen, the journey was particularly arduous. Born 40 days prematurely, she has grown up with a condition known as "tetra-spasticity". Her legs, she says, "have a life of their own": "They kick up when I am speaking, my ankles turn inwards, my toes point downwards, my heels point up and I can't walk. I am forever stuck on tiptoes."
But Nujeen learned to make up for the resulting "fun deficiency" with an exceptional intellectual curiosity. In Syria, she watched non-stop satellite TV: Disney cartoons, science documentaries, football matches. But it was discovering the internet, when she was staying in Gaziantep, Turkey, that changed Nujeen's life. "I would go on to YouTube and look up the most famous pieces of music in the world, or the most famous museums. Then I would remember the date the work was created and the name of the artist."
Our conversations are interspersed with little explosions of joy as she wheels out nuggets of information from her memory bank. "My keenest interests are always influential people, like who invented Google, thank you Sergey Brin; who invented Tom and Jerry, that's William Hanna and Joseph Barbera; who plays Mr Bean, that's Rowan Atkinson, by the way."
Born to parents who were illiterate goat traders, she has recently listened to an audiobook of War and Peace, read Pride and Prejudice, Emma, Sense and Sensibility, Jane Eyre, and A Tale of Two Cities – "That's by Charles Dickens."
She had learned English via her favourite US soap opera, Days of Our Lives, which turned out to be invaluable as she and her siblings made their way from Turkey to Greece, then through Macedonia to Serbia, Hungary, Croatia, Slovenia, Austria and eventually Germany (her parents remain in Gazientep). Her ability to communicate with border guards and officials turned the youngest member of the Mustafa clan into its de facto leader.
In September last year, when she was on the Hungarian border waiting for her brother who had travelled ahead to Germany to apply for asylum, Nujeen encountered BBC journalist Fergal Keane. She confided to him with her infectious optimism that she wanted to become an astronaut and meet the Queen.
John Oliver's Last Week Tonight picked up on the interview and commissioned a one-off scene from Days of Our Lives that brought back to life Mustafa's favourite character EJ, killed off in a previous episode. The clip was designed to be an instant tearjerker. EJ, played by James Scott, looks straight at the camera as he pronounces Nujeen's name and tells his love interest Sami: "She's our kind of people." By the time she reached Slovenia, people were pointing at her, saying "You're the refugee girl in the newspaper!" Nujeen, Oliver said, seemed "like the kind of person that would improve any country that would have her".
Well-intentioned as the stunt may have been, its cheerleading tone doesn't age well. In her memoir, Nujeen recalls waking the morning after watching it and feeling "as if something had been stolen from me … Days of Our Lives had been my own thing, it was private. Also the video clip wasn't realistic – EJ and Sami would have had a fight. I would have liked that better than them talking about me".
It also seems unfair to turn Nujeen into a media-age saint, not least because she herself is quick to acknowledge her flaws. With her precociousness there are often flashes of arrogance. She is dismissive of things other teenagers are into – Harry Potter, Pokémon, pop music. "I pretty much dislike childish behaviour. I always want to be right and be wiser than my age, to make everyone surprised that I am disabled but a person who is educated and knows a lot about the world. If that is a fault, it's entirely my fault."
By her own admission, she is at her worst when she gets impatient. Her worst memory of the entire trek across Europe is the five-hour queue at the German border. "I am a very impatient person. I like everything to be perfect, and if things aren't perfect, then I can be very annoying." "You'd be a terrible teacher," her brother Shiar teases her. "An awful teacher," she adds.
Germany had always been the final destination of their journey. Shiar, 26 years her senior and a film director, had lived there since before she was born, having left Syria to escape conscription for the Iraq war in 1990. While organising their passage across the Mediterranean from Turkey, the Mustafas heard with relief that Germany had temporarily suspended the Dublin regulation procedure. This enabled them to apply for asylum in the heart of the continent, rather than the country where they first stepped on to European soil. When Nujeen was pushed over the river Saalach on the Austrian-German border on 21 September last year, she became one of just over a million refugees who entered the country in 2015.
In her book Nujeen describes her initial bemusement with the national character of her adopted home: "The people are like machines – they get up at a certain time, eat at a certain time and get very stressed if a train is two minutes late."
A few months later, she has partially revised that view. Having enrolled at a school for children with disabilities last October, she initially struggled with the unfamiliar educational system but has since acquired a level of fluency in German at a frightening speed. Our interview seamlessly switches between German and English, and though she still giggles about tongue twisters such as fünfhundertundfünfundfünfzig (the number 555) or Geschwindigkeitsbegrenzung (speed limit), she pronounces them without an accent.
"Since I finished the book, my German has improved and I can communicate much better. I am more adapted to the German style of life and I look more German than I used to. In the way of acting, the habits of daily life, I feel like I am more German." Initially sceptical about European cuisine, she has grown fond of German baking, with Donauwelle cake and Spekulatius Christmas biscuits big favourites.
Even the orderly rhythm of life has grown on her. "You know, Germans are really proud people, they always wish to be number one. That's why there is some kind of rivalry with the rest of Europe and England in particular. But I have this instinct that I too really love working hard, even if it makes me look like an emotionless robot. Every genius I have heard of, or everyone who invented something, it'll be like: oh, he's a German, I get it. But I can be a German too, and I can work hard and be number one".
She has started to make friends at school, even though the children in her class are two years younger than she is. Recently, she says, she has even started dreaming of them rather than the war. Becoming an astronaut is still the long-term plan, whatever her teachers are telling her. "But if it doesn't work out, I still have my imagination." She has recently developed an interest in geography and biology, and is determined to go on to university in Germany. Getting there may depend on whether her optimism can survive the slow grind of German bureaucracy. When I ask the status of her asylum application, she starts shuffling on her seat and changes the subject – it's Nujeen, the impatient hater of queues. Shiar later explains that almost a year after arriving in Germany, Nujeen is still waiting for her residence permit.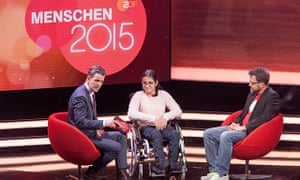 Angela Merkel recently announced that all refugees who arrived last year would be registered by the end of September, but for Nujeen time is running out. Under the Geneva convention, she has only three months, until she turns 18, to apply for her parents to be reunited with her in Germany. When I email her later to ask how she feels about the wait, Nujeen the optimist is back in charge: "I have become a waiting expert," she writes, suggesting that "they need to do something so that the German process of applications might be as fast as the German cars!"
Most of her relatives and friends are now based in Europe – only her sister Jamila still lives in Kobani. Recently, the family has been unable to reach her on her phone. Mustafa follows the news of what is going on at home "unwillingly", because it is hard to escape on the news. "It's horrible what's happening in the world now. One of my basic rules is that no one is born evil or bad, and I think watching the news will make the basics of this principle shake. We need a major, major thing to restore our faith in humanity now, but I still have hope. When you keep hope, you are pretty much in a good situation."
During Mustafa's journey, Angela Merkel became, for her, a reincarnation of Queen Zenobia, the third-century queen of the Palmyrene empire who had found solutions for all of Syria's problems. One year on, after a string of poor results in regional elections, many of the politicians who had supported Merkel are criticising her for her handling of the refugee crisis. Does Mustafa worry about her?
"I feel like Merkel is under pressure because some people are bad ambassadors of the refugees, and they are not representing a good image of us. What I would like to say is that she is doing good for the EU and for Germany: Germany is getting better from the love from refugees. She's doing good, and I hope she keeps us."
But she acknowledges that the mood in Germany is different now. "I can see that some people have changed their minds about welcoming the refugees. But I think they know they are doing the right thing. Refugees are like everyone else in the world: there are bad and there are good people. If you are welcoming to those people in turn, they are ashamed of harming you. If you continue doing good, and they are continuing to do bad, they won't feel good about it. Eventually they will stop."
***
Nujeen