Maniac India Techies : Maniac Killers of the IT Department
Maniac India Techies
Maniac India Techies
Prachi Das was murdered on a Monday. The killer, a friend of her husband's named Basudev Jena, showed up at her apartment in Bangalore on March 2, 2015, in hopes she would help him with his debts. Jena hadn't meant to hurt Das, he later told the police, but he lost his temper when she refused to lend him money. He tried to tear away her necklace, and when Das screamed he cut her throat. The landlady stopped him in the hallway as he tried to flee, his shirt stained with blood.
In India, print newspapers thrive as if it were 1995. They're numerous and energetic, and they rush to the scene of a good story. Das's murder was a sensation, and each publication did what it could to distinguish its coverage. The Indian Express dwelt on the meaning of a carton of ice cream found melting near her body, and the Times of India floated an alternate theory of the crime, speculating that Das had screamed because she saw a rat, leading Jena to panic. But all the papers agreed on the overriding importance of a single, seemingly inconsequential detail: Both Jena and Das's husband were software engineers. Or, as the profession is known in India, they were techies.
"TECHIE'S WIFE MURDERED" read the headlines in both the Hindu and the Bangalore Mirror. "TECHIE STABS FRIEND'S WIFE TO DEATH" ran in the Deccan Herald. To read the Indian newspapers regularly is to believe the software engineer is the country's most cursed figure. Almost every edition carries a gruesome story involving a techie accused of homicide, rape, burglary, blackmail, assault, injury, suicide, or another crime. When techies are the victims, it's just as newsworthy. The Times of India, the country's largest English-language paper, has carried "TECHIE DIES IN FREAK ACCIDENT" and "MAN HELD FOR PUSHING TECHIE FROM TRAIN"; in the Hindu, readers found "TEACHER CHOPS OFF FINGERS OF TECHIE HUSBAND" and "TECHIE DIED AFTER BEING FORCE-FED CYANIDE." A long-standing journalistic adage says, "If it bleeds, it leads." In India, if it codes, it explodes.
The epicenter of techie tragedy is Bangalore, a city in the southern state of Karnataka that bills itself as India's Silicon Valley. Bangalore has more startups than any other city in the country and is home to Apple, Google, IBM, Intel, Microsoft, and Oracle, in addition to big domestic information technology companies such as Infosys and Wipro. More than 10 percent of Bangalore's 10.5 million residents work in tech, giving journalists plenty of unfortunate events to sensationalize: "ASSAULT OVER BANANA SPLIT: 3 TECHIES HELD"; "DEPRESSED BANGALORE TECHIE INJURES 24 IN SWORD ATTACK SPREE."
When I visited the city in September, the Bangaloreans I met fondly recounted their favorite techie stories from the local press. One involved a couple whose nanny secretly rented out their baby to street beggars. Another featured a software engineer who pretended to be an astrologer to trick his wife into confessing infidelity, then bludgeoned her to death with a religious idol and, for good measure, called in bomb threats to the airport pretending to be the husband of an ex-girlfriend with whom he hoped to get back together.
Reddit users recently observed that the "Indian techie" has become like the "Florida man" meme in America: an archetype of incompetent criminality and hapless violence. But in India, the techie is also celebrated as a symbol of the country's ascendancy in the global economy. "In a society where there are no heroes, techies are the only heroes," said Mohandas Pai, a venture capitalist, in his corner office on the top floor of a building near Bangalore's central park. "A techie is a person you look up to with great respect," he said, adding that the media's sordid stories "are just sensationalizing."
Even if that's true, the coverage resonates with readers. The resentment implicit in techie headlines occasionally spills over into actual violence. On Sept. 12, riots broke out across Bangalore after a court ordered Karnataka to share water with a neighboring state. Thirsty mobs targeted the well-kept Oracle office, which had to be evacuated, as well as eight Infosys employee buses, whose passengers were forced to walk home under a hail of stones.
Technology was supposed to deliver India from poverty, but in Bangalore it's also deepened the division between rich and poor, young and old, modern and traditional. As the city has grown richer, it's also become unruly and unfamiliar. If the tech worker is the star of the Indian economy, then the techie is his shadow—spoiled, untrustworthy, adulterous, depressed, and sometimes just plain senseless. ("TECHIE WITH EARPHONES RUN OVER BY TRAIN.") In one occupational boogeyman, Bangaloreans can see their future and their fears.
Hundred Feet Road runs through Indiranagar, a once-quiet neighborhood that's now the center of the Bangalore tech scene. It feels as if someone diverted a highway through a shopping mall. Shops and restaurants crowd the sidewalks like spectators at a parade, and rooftop pubs crank their music to drown the clamor from the street. People complain that Bangalore's traffic is the worst in India, and the eight lanes of Hundred Feet Road often come to a standstill as drivers, trying to get somewhere as quickly as possible, make it impossible for anyone to get anywhere at all. Only the cows, headed nowhere, enjoy the right of way.
Across from an Adidas shop, Chiranjiv Singh, the former development commissioner of Karnataka state, lives in a small but verdant plot—a sliver of the wilderness he found when he moved there 40 years ago. The land was a coconut grove then, and a few tall trees still lend his home their shade. The birds and monkeys have stopped visiting, though, and Singh, a soft-spoken Sikh with a long and coarse beard, expects he will leave soon, too: "I don't know how long we can continue here because of all this noise."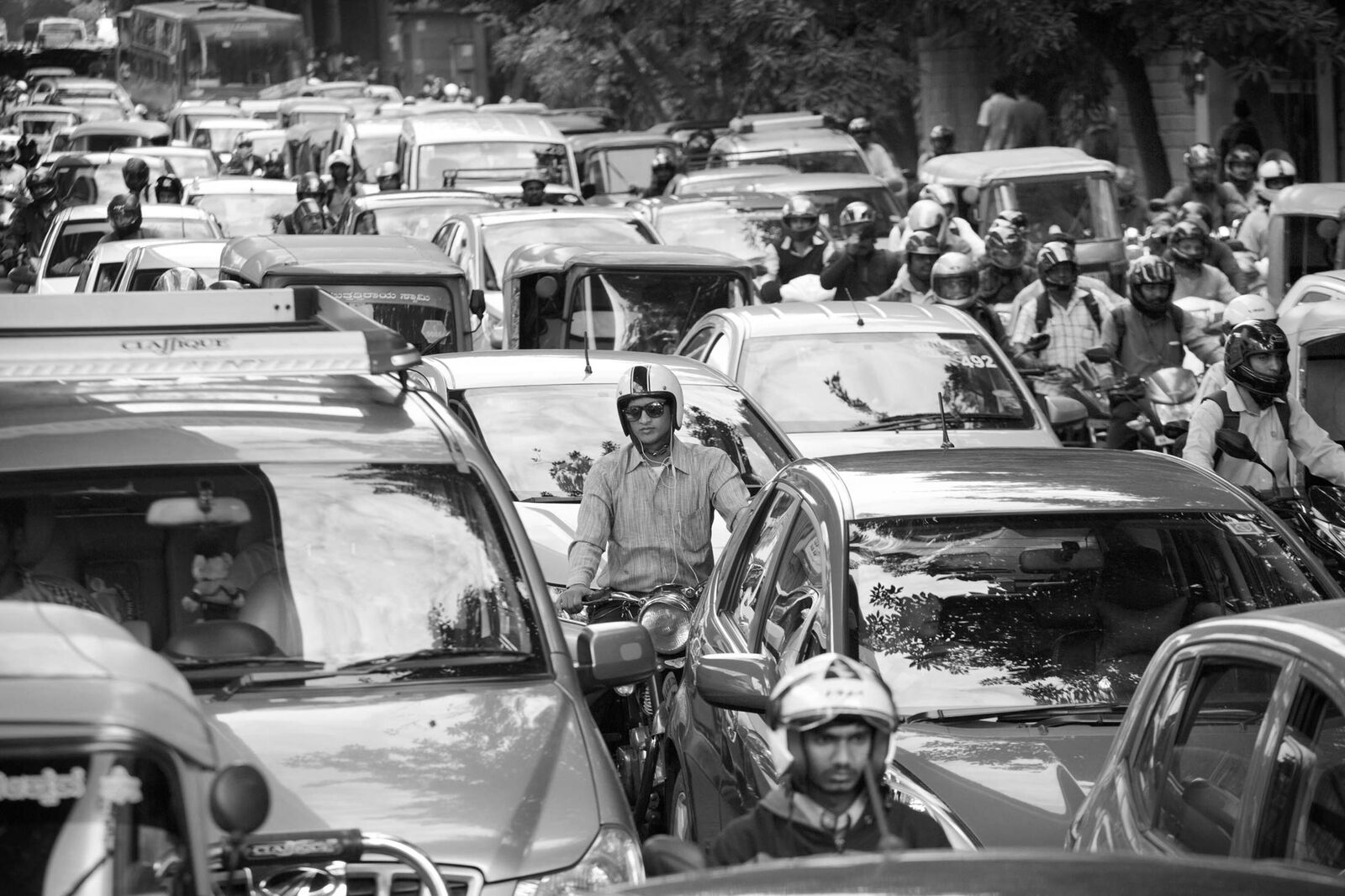 Bangalore used to be known as the Garden City. It was a medium-size, middle-class metropolis in one of the few areas of India that didn't broil in summertime. Colonial bungalows nestled among flower beds, old trees, and pristine lakes. "I have discussed the subject of Bangalore with persons in other parts of India and have found that 90 out of a hundred dream of settling down in Bangalore, after retirement," the novelist R.K. Narayan wrote in 1977. Another nickname for the city was the Pensioner's Paradise.
Bangalore's makeover began in the 1980s. Previously a center of textiles, aerospace, and electronics, the city became an outsourcing hub as undersea fiber-optic cables made it possible for U.S. and European corporations to offshore IT work. Texas Instruments opened a software-design center there in 1985; Infosys, an omnibus software and services provider, went public in 1993; and three years later a local coder invented Hotmail. By the turn of the century, Bangalore had established a reputation for coding quality software at low cost, and corporations hired the city's engineers en masse to guard their systems against the Y2K bug. Bangalore inspired Thomas Friedman's 2005 best-seller on globalization, The World Is Flat.
From 1981 to 2001, Bangalore doubled its population, to 5.7 million. The invaders had a name. "We had a new occupational category emerge: the IT engineer," said Balaji Parthasarathy, a professor at the International Institute of Information Technology in Bangalore. IT engineers brought a lot of benefits. Real income grew much faster in Bangalore than in other parts of India, and the city became the country's main link to the economies of the West. "We have more connections with Silicon Valley than with Delhi," said Pai. "Bangalore is India's only global city."
But the IT engineers lived differently from the pensioners and other longtime residents. They spoke English, not the native Kannada, and lived in gated condominium towers with pools and fitness clubs rather than in traditional bungalows. They worked in amenity-rich office parks, shopped in designer malls, ate at Western chain restaurants, and socialized in posh microbreweries. And their strange habits were chronicled by the booming local press.
The word "techie" first appeared in newspaper headlines in the 1990s simply because it was shorter than "software engineer." Readers loved the stories, and editors soon went out of their way to assign them. "The news value of anything to do with a techie seems to be more," said B. Pradeep Nair, the news editor of the Hindu, in his office, as that day's edition was being put to bed. Media consultant Imran Qureshi recalled a story he covered 15 years ago about a married couple in Chennai who were producing child pornography. That in itself wasn't scandalous enough to make the story a sensation. "It became a headline story because the man happened to be an IT professional," Qureshi said.
Today, Indian journalists apply the word "techie" to anyone remotely connected to the IT industry. Some headlines imply that techies are more important than other people, such as "TECHIE AMONG THREE BURNT ALIVE IN GARUDA BUS MISHAP." Other stories tell of incidents so minor they seem to exist only so the journalist can use the word. The Herald recently reported on a techie who had stepped on a "brittle footpath slab" and suffered "swelling in his leg."
The close scrutiny makes the techie seem alien, like a strange specimen in a cage. "When we use 'techie,' it is a bit of a local-vs.-outsider thing," said Ravi Joshi, editor of the Bangalore Mirror, in his newsroom. "It is basically the profession that does not belong here."
One afternoon in Bangalore, my Uber driver, Chethan J., invited me to join him in the front seat of the car. (Many Indians use a single name, or mononym, sometimes with an initial.) We were in the center lane of one of the city's busiest roads, which meant, of course, that we weren't moving. Chethan is 22, with thick black hair and a mustache grown long at the tips. Thinking to myself, When in Bangalore, do as Thomas Friedman does, I asked him for a driver's-eye view of tech workers. Chethan's mood darkened. "They are coming and destroying our culture," he said. Industry boosters are fond of saying that each tech job creates anywhere from 3 to 10 support jobs in the city, but Chethan had no affection for the engineers he ferried around all day. He has a bachelor's degree in political science and economics and joined Uber only when he couldn't find a better-paying job. "The locals are servants," he said. "All of Bangalore is going bad."
The tech boom that was supposed to profit the city has made daily life harder. Bangalore's population has doubled again since 2000, buckling the local infrastructure. There are more than 6 million vehicles, and the average driving speed in the city center is below 6 miles per hour, meaning it would be faster for everyone to jog slowly than to drive. During the initial IT boom, the portion of Bangalore's population living in slums doubled. Blackouts became daily occurrences, and road-widening projects destroyed parks and trees without decongesting the streets. Money flooded in, but the lakes dried up—of the 900 the city once counted, fewer than 200 are still considered "live," and most of those are filled with sewage. In October, thousands protested in the streets over plans to build a multibillion-dollar elevated bypass connecting the Bangalore airport to the city center. Demonstrators argued the project would benefit the jet-setting elite but do little to help poorer residents who spend hours every day in gridlock.
Frustration was palpable all over Bangalore. A kindly older man named Vijay Thiruvady, who leads tours of the botanical gardens and Cubbon Park, the city's largest remaining green spaces, rued the failure of the IT industry and government to coordinate the growth. "The tech boom has completely changed the city. They've ruined it," he said, as we sat in yet another traffic jam. "I'm going to use a strong term," he warned, before cursing another motorist as "a stupid fellow." Then he resumed grousing about techies.
"With the coming of the techies, you can see the traffic, you can see the road rage, you can see the problems with infrastructure, you can see trees being cut everywhere," said Narayanan Krishnaswami, a reporter with the Times of India. "For a lot of people, that is a repudiation of what the city used to be. And they trace it back to the cause of the prosperity, which is the tech sector."
One of the main appeals of the newspapers' techie coverage is schadenfreude. "When a techie falls, everyone is secretly happy," said Joshi, the Mirror editor. Techies arriving from across India are assumed to be more interested in the Western lifestyles of the modern workplace than the local culture of their new city. They tend to live away from their parents, drink alcohol, spend money freely, travel abroad, keep strange hours (because they work on the schedules of U.S. and European clients), and choose "love marriages" over traditional arranged ones.
Someone who suspects tech workers of immorality would find plenty of grist in the newspapers, where techies are frequently killing their spouses and having affairs. Such stories sometimes implicate the victim in his fate. An article might note, for example, that the parents of a woman whose techie husband killed her had disapproved of the marriage, or that a techie killed himself after a "trivial" argument with his wife.
Taken together, the stories can read like morality plays. They assuage a reader's envy by suggesting that a tech worker's material wealth conceals a deeper poverty. "If a techie can commit suicide or kill his own wife," said Sahana Udupa, a social anthropologist who previously worked as a journalist in Bangalore, "it says something about the stress, something about the depression, something about their loose morals."
I thought it unlikely that tech workers were genuinely troublesome, so I visited the Bangalore police headquarters to ask for an official perspective. Bureaucracies in India like to unfurl themselves before visitors, and the police commissioner on the first floor referred me to an additional police commissioner down the hall, who referred me to a deputy police commissioner on the fifth floor, who was so thrilled by my visit that he paused our interview midway to take my photo with his phone. His name was M.G. Nagendra Kumar, and a few years earlier he had studied crimes involving software engineers. He concluded that the techie "lacked the general thinking of other common people," he told me. "His mind works like a computer machine."
Kumar said the techie's long hours in front of a PC could make him dangerously impatient: "He wants life to go at internet speed." At a busy intersection, a techie wouldn't wait for the signal. "Only techies are the deceased in road accident cases," Kumar said. And at home, a techie might grow angry and violent with a wife or family member who didn't follow commands automatically like his computer. At this point, a police inspector named Kanakalakshmi (also a mononym), who'd been sitting quietly beside me in Kumar's office, spoke up. "They're always before the system," she said. "It makes them behave like a beast, almost."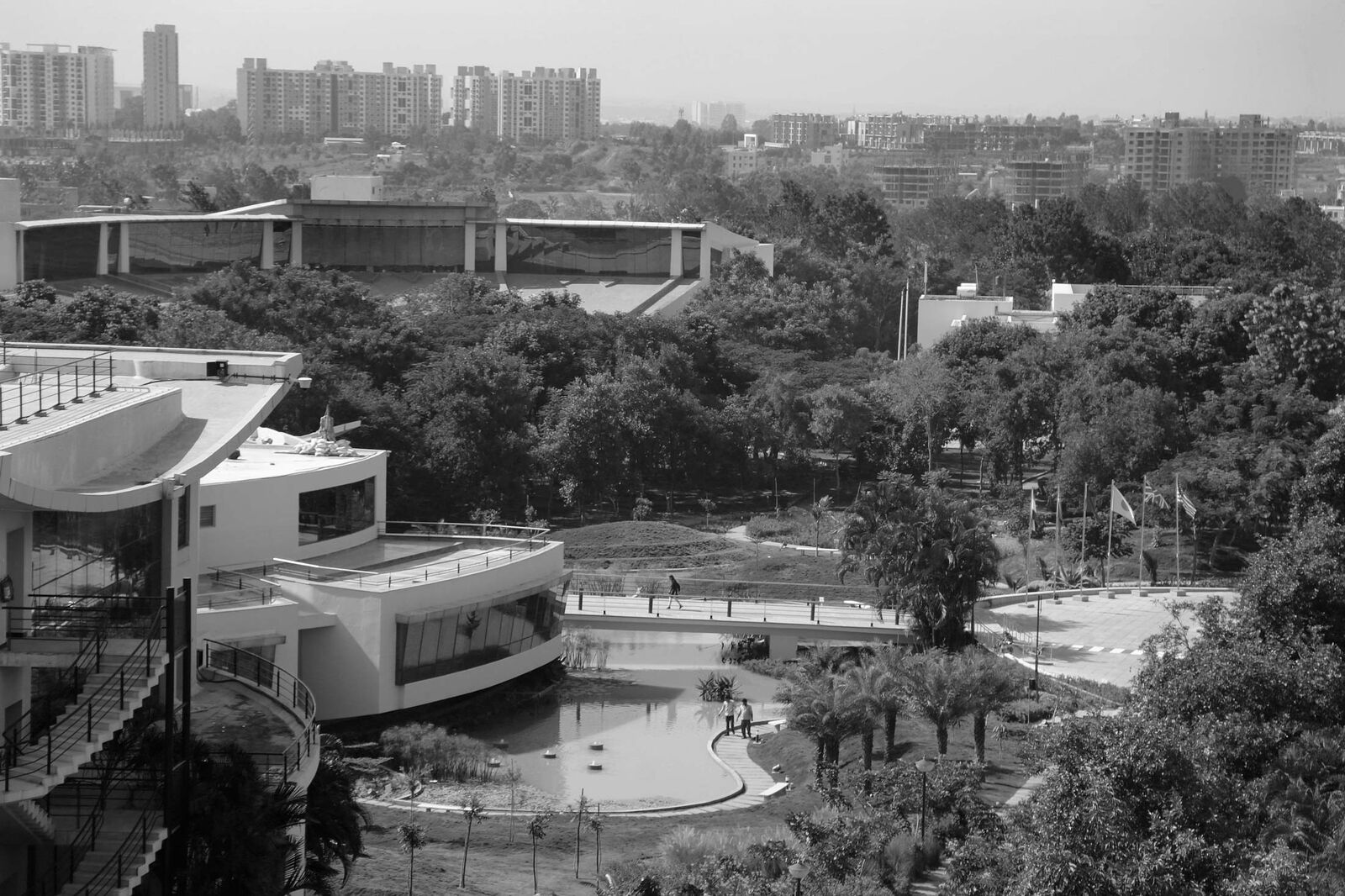 Kanakalakshmi produced two spreadsheets. The first listed 139 cases since 2010 in which a software engineer had been accused of a crime; the second listed 297 cases, excluding petty thefts, in which a software engineer had filed a complaint. Neither sum really suggested a crime wave in a city with more than 1 million tech workers, and it was hard to make sense of the statistics. The translation from Kannada to English had rendered many case descriptions unintelligible, and the spreadsheets seemed to exclude certain cases I'd read about in the papers while listing others twice.
It was nevertheless interesting that the most common complaint by far was a spouse alleging mental and physical harassment (in some cases, the police use the word "torture"), often in connection to a dowry dispute. The clash between the traditional expectations of Indian culture and the demands of modern professional lives doesn't only shape the relationship between techies and the rest of the city, it also plays out in tech workers' private lives. "Social liberalization hasn't kept pace with economic liberalization," said Asha Rai, a senior editor at the Times of India. "The values they imbibe at the workplace and when they travel are in conflict when they come home."
I wasn't attacked by sword, pushed from a train, force-fed cyanide, tortured, or otherwise harmed by any of the techies I met in Bangalore. I was introduced to coders, startup founders, investors, and engineers, including a group that was building a moon lander for Google's Lunar X Prize competition. A robotics specialist from IBM named Aswin Subramanian gave me a tour of Whitefield, a tech district, in his race car and then invited me to his home, where he played Yanni songs on a keyboard. (OK, perhaps there was some torture.)
Techies in Bangalore extol a strain of utopianism similar to that found in Silicon Valley. "Eventually everything will be solved by tech," said Mukund Jha, the co-founder of Dunzo, a concierge app that lets users hire a runner to carry out almost any task for a few dozen rupees—less than a dollar. At the moment, a Dunzo runner was fetching him a coffee from Starbucks; he'd also used the service to repair the cracked screen of his iPhone and install pigeon nets on his balcony at home. Customers have used Dunzo to retrieve lost phone chargers, deliver birthday cakes, purchase toilet paper, and check whether a shop is open. "Once you get started, you get hooked to it," Jha said. "On a good day, you can get anything you want within 10 minutes."
Dunzo is incredibly useful in a city where completing simple tasks grows harder by the day. But the app also indicates how technology further cocoons the privileged from the rest of the city. Dunzo's founders say they hope their app will trickle down to the masses, but they've targeted early builds at the elite. "We haven't seen a single request which is non-English," Jha said.
Although tech has offered millions of young Indians a ladder out of poverty, there's also concern that it will soon eliminate jobs instead of creating them. At IBM, Subramanian was designing robots for use in automation. (He recently left the company.) Dunzo is working to build artificial intelligence that would eventually replace much of its operations staff. Wipro and Infosys, the IT companies that most symbolize Bangalore's tech industry, replaced 8,200 human jobs last summer with software. Tej Pochiraju, the managing director of Jaaga Startup, which bills itself as India's first co-working space, said the divide between engineers and laymen would only accelerate. "As things get more and more automated, technology and techies will become more godlike," he said.
In a New Year's letter to his employees, Infosys Chief Executive Officer Vishal Sikka wrote of "the tidal wave of automation and technology-fueled transformation that is almost upon us"—a choice of words that sounded more apocalyptic than utopian. A few weeks later a techie was murdered by a security guard on Infosys's campus in Pune, about 500 miles northwest of Bangalore. The Hindustan Times warned about "a growing list of IT workers kidnapped, molested, raped, or killed on campus." Although unrelated, Sikka's letter and the crime coverage shared a certain anxiety: Tech could guarantee neither job security nor personal safety. The techie, the hero of the Indian economy, would never be as safe as he seemed.
Maniac India Techies