Invictus – From "20 Classic Poems Every Man Should Read"
Invictus
Matthew Arnold, a Victorian poet, once claimed, "The crown of literature is poetry," and if our neglect of poetry is any indication, the crown is rusting. While books sales fluctuate from year to year, fewer and fewer publishing houses are printing volumes of poetry. The demand for poets and their poems has ebbed.
Invictus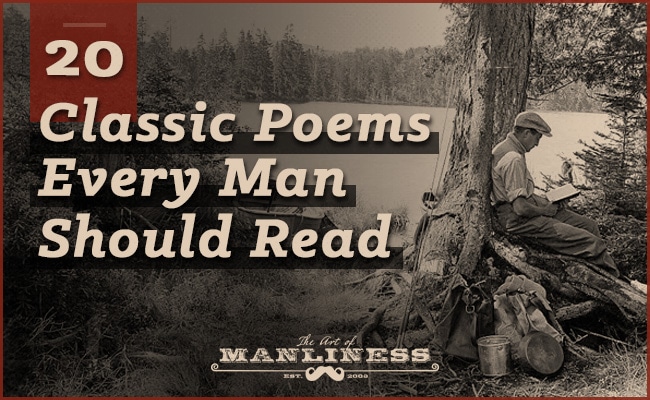 5. "Invictus" by William Ernest Henley
We're not promised a life absent trials and suffering. While horrific events have sidelined many men, William Ernest Henley refused to be crushed on account of hardship. As a young man he contracted tuberculosis of the bone, which resulted in the amputation of the lower part of one of his legs. The disease flared up again in Henley's twenties, compromising his other good leg, which doctors also wished to amputate. Henley successfully fought to save the leg, and while enduring a three-year hospitalization, he wrote "Invictus" — a stirring charge to remember that we are not merely given over to our fates. While life can be "nasty, brutish, and short," we cannot sit idle while waves crash against us. A product of Victorian stoicism, and lived struggle, Henley's poem is a clarion call to resist and persevere through the hardest of trials.
***
The Poem
Out of the night that covers me,
Black as the pit from pole to pole,
I thank whatever gods may be
For my unconquerable soul.
In the fell clutch of circumstance
I have not winced nor cried aloud.
Under the bludgeonings of chance
My head is bloody, but unbowed.
Beyond this place of wrath and tears
Looms but the Horror of the shade,
And yet the menace of the years
Finds and shall find me unafraid.
It matters not how strait the gate,
How charged with punishments the scroll,
I am the master of my fate,
I am the captain of my soul.
***
Invictus