IndiCan : My first venture in Canada; 2004-2008
IndiCan
L to R : Amjad, Me, Peter, Bryan, Michael, Dennis, Steve
IndiCan
A sample team guy – Steve
Steve Rigler is an authority on Intellectual Property Management. He has created a unique and proprietary "RiglersystemT IPAM Development Framework" which helps clients to maximise the value of their Intellectual Property Assets, which could be a Patent, Trade-mark, Copyright, Industrial Design or Trade Secret. He has set up his own company named Leading Innovation that works with companies and entrepreneurs in order to help them create value from their intellectual property.

Steve has over 20 years experience in Europe, USA and Canada in consulting, coaching, research and training in IP Asset Management – he runs a series of popular workshops on this subject.

By training, Steve is an engineer, and a registered patent attorney in Europe. He has studied economics and international technology transfer in USA. In Canada, he has built up a large group of clients with valuable intellectual property assets.

With IndiCan, Steve hopes to work with his Canadian clients who are keen to take their technology overseas and with Indian companies who are interested in getting their IP rights protected in this market. Besides English, he is fluent in Hungarian.
Some of our team still active
http://www.simcoe.com/news-story/2030131-led-the-way-to-go
LED the way to go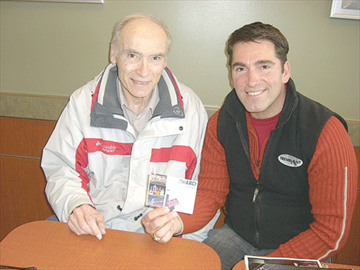 Dr. LED
Joanne Saunders photo
Peter Richardson (at right) shows some promotional material for his Go Green Lighting company, Dr. LED, as he poses with his father and technical advisor, Ralph Richardson. Peter's background in electronics and training in international business management led to the launch of his federally incorporated company, selling various light emitting diode products. His website is www.drled.ca
Barrie Advance
Whether it be indoor or outdoor, residential or commercial, environmentally friendly lighting is the focus of Peter Richardson's Dr. LED lighting company, which he moved from Burlington to Wasaga Beach last November.
Why Wasaga?
Richardson explained that there are many retirees here and studies have shown that cocooning Boomers and Zoomers are opting to spruce up their homes and backyards in lieu of traveling, particularly in the current economic climate.
"My main goal is to have people establish a beautiful well-lit backyard," Richardson said, noting that the typical backyard often sports one glaring light.
For the summer, he said he intends to focus on outdoor lighting solutions. He plans to display some of the glowing garden effects obtainable with LED illumination in co-operation with a local landscaper for the Spring Garden Show at the Wasaga RecPlex.
Light emitting diodes (LED) have been used for years in such common household appliances as clock radios and TV remotes, he explained, but LED lights are gaining in popularity because they require much less energy than fluorescent or incandescent bulbs.
He said that traffic lights are gradually being converted to LED.
When you convert to LED, "your hydro bill goes down," he said. There is about a two-year payback period as the LED bulbs cost more initially but last about 80,000 hours.
Although LED was developed in the United States, Richardson said most electronic devices employing that technology are manufactured in China. So he took himself to China to visit six LED manufacturers to get his lights produced.
Richardson said he is to meet with Mayor Cal Patterson next week to present the idea of illuminating the Main Street bridge with LED lights.
He said a nearby municipality, Penetanguishene, was honoured Jan. 12 with a Certificate of Recognition from Ontario's Chief Energy Conservation Officer, Peter Love, for having installed the most (242 to date) LED street lights in all of Canada.
The LED lights have another e-friendly aspect in that they contain no mercury, Richardson explained.
For more information and a photo gallery of LED illumination effects, visit www.drled.ca
***