Dementia National Strategies – Assessing the Socio-Economic Costs
Dementia National Strategies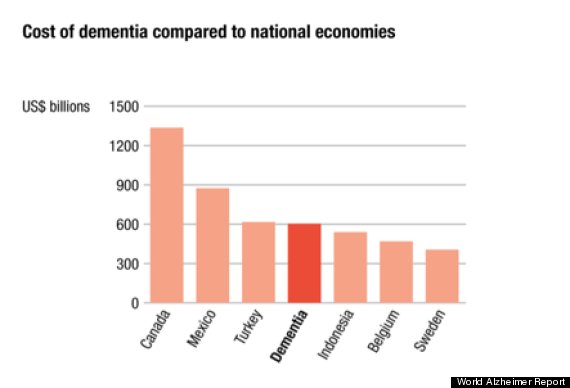 Dementia National Strategies
Developing national strategies on dementia is necessary to improving co-ordination across healthcare and social care service providers.
Dementia National Strategies
Assessing the socioeconomic impact of Alzheimer's in western Europe and Canada is a report by The Economist Intelligence Unit, sponsored by Eli Lilly, which examines how healthcare systems and governments in western Europe and Canada are responding to the growing pressures that Alzheimer's disease and other dementias are placing on their economy, society and healthcare systems.
The findings of this report are based on research carried out by The Economist Intelligence Unit and include insights from leading dementia experts in academia and the medical profession, as well as patient association leaders.
***
ASSESSING THE SOCIOECONOMIC IMPACT OF ALZHEIMER'S IN
WESTERN EUROPE AND CANADA
To assess the socioeconomic burden of Alzheimer's and other dementias as well as the associated challenges facing policymakers, governments and society, The Economist Intelligence Unit has conducted a study of six countries—Canada, France, Germany, Italy, Spain and the UK—to examine the strategies and policies that governments and other key organisations are devising and implementing in their attempts to tackle the socioeconomic impact of these diseases.
Key findings and identified needs
 Rapidly ageing populations are adding to the rising number of people with dementia. This is putting severe pressure on countries' healthcare systems and budgets, and importantly also on families and informal caregivers. If current levels of informal care are to continue, governments will need to increase the amount of support they give these carers in order to manage the rising number of people with Alzheimer's disease. According to Jean Georges, executive director of Alzheimer Europe, "better support and training for carers is needed so they are better able to provide care at
home, which would save substantial costs to governments in the long run".
 The cost of dementia is mounting. The global societal and economic cost was estimated at US$818bn in 2015, or 1.09% of global GDP, according to Alzheimer's Disease International.
– The majority of direct medical costs fall on the health system of each country we studied. Based on our analysis, the UK shoulders the highest direct medical cost, whereas Germany and Italy carry the lowest. Direct costs of dementia are shared between families and the public system, but indirect costs fall entirely on families.
– These indirect costs are in addition to the emotional burden of the disease, which has a major impact on those caring for someone with Alzheimer's. Many caregivers are under growing stress and can suffer from anxiety, depression and other
debilitating effects. Ketty Vaccaro, head of health and welfare at Censis, argues that the big question is how long the informal care model—based on the key role of the family—will last
Developing national strategies on dementia is necessary to improve co-ordination across service providers. In many countries healthcare and social care systems operate in silos with separate sources of funding. This not only increases costs but also results in lower quality of care, because dementia affects both a person's health and their ability to function in society. "Improving the situation of people with dementia and their carers depends on what has been called a 'welfare mix', which means the co-ordinated efforts of market, state and civil society, including self-help. organisations," explains Monika Kaus, chair of the German Alzheimer Association. Moreover, national strategies will help to inform regional policies.
 More research is needed. This not only relates to the development of medicines   and medical technologies that can prevent or slow the onset of dementia, but also to the production of data that can inform policies on preventive measures and facilitate an increase in the rate of accurate and timely diagnosis. Rates of early diagnosis need to be increased as a means of improving the outlook for patients and helping to cut expenditure by avoiding costly hospitalisation and institutional long-term care. According to Theresa Tam, interim chief public health officer at the Public Health Agency of Canada, necessary measures include "providing the tools and information that people need to recognise the disease to promote early diagnosis, since that makes a difference in terms of delaying some of the impact".
 There is a lack of understanding between what people consider symptoms of old age and what are, in fact, indicators of Alzheimer's. One way to tackle this is by raising awareness of the condition and education about what Alzheimer's is—its symptoms and its impact on those that suffer from it and those around them. "The fight against
Alzheimer's disease and related illnesses requires a change of view of society as a whole. Awareness of the general public is therefore a priority for the years to come," explains Jöel Jaouen, president of France Alzheimer.
***
Dementia National Strategies
Dementia National Strategies