Dallas Buyers Club – Biopic of an HIV-AIDS survivor – Multiple Award Winner
Dallas Buyers Club
Matthew McConaughey stars in DALLAS BUYERS CLUB as real-life Texas cowboy Ron Woodroof, whose free-wheeling life was overturned in 1985 when he was diagnosed as HIV-positive and given 30 days to live. These were the early days of the AIDS epidemic, and the U.S. was divided over how to combat the virus. Ron, now shunned and ostracized by many of his old friends, and bereft of government-approved effective medicines, decided to take matters in his own hands, tracking down alternative treatments from all over the world by means both legal and illegal. Bypassing the establishment, the entrepreneurial Woodroof joined forces with an unlikely band of renegades and outcasts – who he once would have shunned – and established a hugely successful "buyers' club." Their shared struggle for dignity and acceptance is a uniquely American story of the transformative power of resilience.
Dallas Buyers Club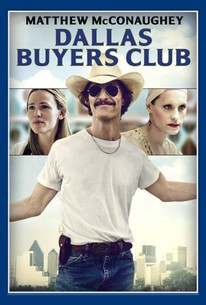 A transphobic, homophobic McConaughey meets Jared Leto, playing a trans person
Dallas Buyers Club
Review
http://www.newsday.com/entertainment/movies/dallas-buyers-club-review-matthew-mcconaughey-is-oscar-worthy-1.6431651
'Dallas Buyers Club' review: Matthew McConaughey is Oscar-worthy
The last time most viewers saw Matthew McConaughey was in last year's stripper comedy "Magic Mike," when he played a strutting slab of beef named, coincidentally, Dallas. Prepare yourself for a shock: In the new biopic "Dallas Buyers Club," McConaughey has shed nearly 50 pounds to play a real-life AIDS victim. At something like a third of his normal weight (the 6-foot-tall actor reportedly plummeted to 135 pounds), McConaughey is almost literally a shadow of his former self.
He is also twice the actor he's ever been, delivering the performance of his career as Ron Woodroof, a homophobic Texan diagnosed with HIV in 1985. This somewhat fictionalized version of Woodroof is a foul-mouthed sleazeball addicted to cocaine and bargain-priced women, and McConaughey (a Texas native) throws himself into this vividly off-color role, body and soul.
Woodroof initially laughs off his 30-day life sentence. Like Denzel Washington's Captain Whitaker in "Flight," he's seemingly unkillable, a party-cockroach immune to all poisons. After several fainting spells, however, he's begging Dr. Eve Saks (Jennifer Garner) for the then-breakthrough drug AZT. When he learns that other promising drugs are banned in the United States, Woodroof sets about smuggling them in. All he needs are some customers.
Enter Rayon (an excellent Jared Leto), a transgender woman who becomes Woodroof's unlikely business partner. She's a fictional character, a stand-in for an entire class of people that Woodroof initially abhors. What they share is a desire to live, and Rayon, a gay nightlife denizen with a heroin habit, has the better Rolodex. The movie's best moments are shared between these two outsiders, who evolve from antagonists to co-workers to almost-married couple. A scene in which one of Woodroof's good-ol'-buddies catches them bickering in the supermarket is nearly worth the ticket price.
Directed with a bit of flair by Jean-Marc Valée from a well-crafted script by Craig Borten and Melisa Wallack, "Dallas Buyers Club" mostly unfolds as a solid and straightforward biopic, but McConaughey is so fierce and funny that he turns it into something transcendent. When he's on the screen, the movie feels thrillingly alive.
Dallas Buyers Club
Jared Leto- Oscar
Mathew McConoghey – Oscar