Child Abuse – Catholic Church rejects a Five Year Study on child sexual abuse
Child Abuse
Australian royal commission publishes 21-volume report after five years' work
Report calls for end to compulsory celibacy and secrecy of confessional
Melbourne archbishop says seal of confessional is 'inviolable'
Below: Members of the Care Leavers Australasia Network in Canberra as the final report of the Australian royal commission into institutional responses to child abuse was delivered to Sir Peter Cosgrove, the governor general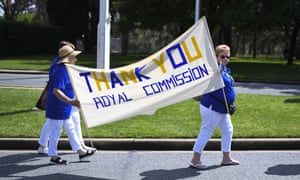 Child Abuse
Leaders of the Catholic church in Australia have quickly dismissed calls from a landmark inquiry into child sexual abuse that the Vatican should make celibacy for priests voluntary and end the secrecy of confession.
After five years of work, Australia's royal commission into institutional responses to child sexual abuse delivered its 21-volume report to government containing 400 recommendations – 189 of them new – to governments and organisations about how to prevent children being harmed on such a scale again.
Australia's commission has been consistently praised by survivors, their advocates and experts for its uncompromising investigation of institutional abuse. It conducted 57 case studies, resulting in 45 reports to government, culminating in Friday's final report. It has employed almost 700 staff since its inception in 2013, who examined more than 1.2m documents. McClellan chaired the commission throughout. The royal commission reviewed more than 300 reports published in the past 28 years, using many of these to inform its work.
The royal commission was first announced on 12 November 2012 by the then prime minister, Julia Gillard, who said allegations that had come to light about child sexual abuse were heartbreaking.
"These are insidious, evil acts to which no child should be subject," she said at the time. "The individuals concerned deserve the most thorough of investigations into the wrongs that have been committed against them. They deserve to have their voices heard and their claims investigated."
On Friday she thanked the six commissioners for their work.
"Our nation is indebted to you and to the survivors who fought so hard for justice and a safer future for our children," she said. The current prime minister, Malcolm Turnbull, told reporters the commission's work had uncovered a "national tragedy".
Child Abuse
Child Abuse
Child Abuse
Child Abuse
Child Abuse
Child Abuse