Badmaash is one of several new restaurants rehabilitating Indian cuisine's hole-in-the-wall, curry-in-a-hurry image. "Up until recently, Indian food was in a 9-1-1 state in America, the way Chinese food was in the '80s and '90s," says co-owner Nakul Mahendro. Here, Mahendro; Jessi Singh, co-owner of Babu Ji in New York; and Manish Mehrotra, head chef at Indian Accent in New York, talk about what inspires their cooking.
Chicken Tikka Poutine, Badmaash
Badmaash layers chunks of marinated, tandoor-cooked chicken on top of fries and douses the whole thing in traditional beef gravy and cheese curds.
"We're Toronto boys," says Mahendro, who opened the 50-seat spot with his father, Pawan, and brother, Arjun, in 2013. (Badmaash, a Punjabi and Hindi word that translates roughly as "badass," is a term of endearment.) "Some of my best memories are of sharing a poutine with my brother, drunk, at 3 a.m. If you take away the seasoning on the fries and chicken, and the cilantro, you have a classic Canadian poutine: crispy fries, cold cheese curds, and piping hot gravy. Our chicken marinates in yogurt, ginger, and fenugreek for two days. We use a finesse that those restaurants stuck in the '80s and '90s don't. Their orange tandoori chicken—that shit is food coloring."
Curry Sampler, Babu Ji
It's common for an Indian restaurant to offer a thali, an assortment of dishes on a round plate that's meant to be mixed into rice or scooped up with flatbread. Less common? For that sampler to account for India's regional diversity, like Babu Ji's does.
"We wanted to create a restaurant where you have a beautiful atmosphere, great food, good wine, and a whole fridge of microbrews—so it's not just Kingfisher and curry," Singh says. Born in India and raised in Australia, he opened the 64-seat Babu Ji (rough translation: mayor of the block) in New York last year; a San Francisco location is coming this fall. "Indian food, whether it's very cheap or very high-end, usually has the exact same focus on North Indian food. I take my wife, Jennifer, back to India, and she's so impressed. Like, 'Wow, Indian food changes every 100 kilometers.' That's what we're trying to show here: one small menu that features all of India—my butter chicken from Punjab in the north, the coconut curry that's a staple of the south."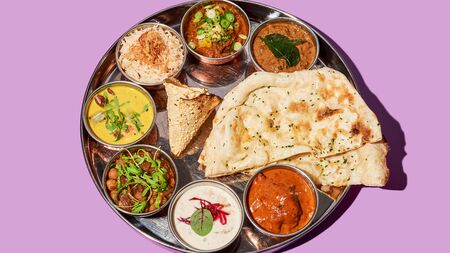 House Specials
Unexpected ingredients making their way onto Indian menus
Burrata
The recipe for papri chaat—a crunchy, savory street-food snack—normally incorporates yogurt and standard chutneys. "We have replaced that with burrata-style mozzarella, with tamarind chutney, chili chutney, and mint chutney," says Mehrotra of Indian Accent.
Indian Accent offers a seven-course tasting menu for $110 per person. "Thomas Keller, Eric Ripert, Daniel Boulud—they are chefs I look up to," says Mehrotra, whose 70-seat New Delhi-style restaurant opened in Manhattan in February.
Foie Gras
Another celebrated Indian Accent dish: galouti kebabs, made with minced goat and stuffed with foie gras.
Scallops
"They don't belong in Indian food, but that's the Aussie part of me," says Babu Ji's Singh. "Day-boat scallops are beautiful and so easy to get. That's the main thing I put in my coconut milk curry."
Beef
Traditionally absent from Indian restaurants, because of India's Hindu majority, beef has a home at Badmaash, which serves a red-wine-braised short rib with onion and tomato.